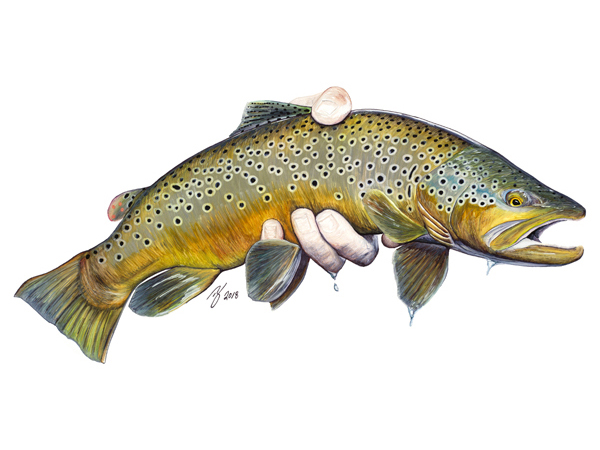 My artwork has transformed and evolved from my years spent as an Art Major in college.
The great outdoors has always been my love and my passion. Growing up in South Dakota, family fishing trips to Montana, a wildlife management degree, jobs in Oregon, and finally a family in Wyoming have all helped keep  my passion alive. 
I have drawn much wildlife including birds, ducks, elk, Big Horn Sheep, African Kodo, Moose, Sage Grouse, Pheasants, Blue Grouse many different species of ducks and fish.
I was a full-time fishing guide, I love taking my experience from the river and turn them into everlasting, one-of-kind art pieces for my clients. 
All of my art is hand-drawn using Sharpie markers. 
Today, my artwork focuses a lot the beautiful fish of the North Platte River of Wyoming. 
I take my experiences on the River and turn them into custom "Catch and Release" pieces are hand-drawn pieces of art.  One of my favorites is of local guide—Blake Jackson—holding a nice brown we caught at the Miracle Mile section of the North Platte River. 
I have drawn Tarpon; Steelhead, spawn and chrome; Brown, Rainbow, and Cutthroat trout. I have even done a Mirror Carp and some Stoneflies.
I am always striving to expand and improve my artwork and willing to try new things. I enjoy seeing the individuality of every fish caught and having inspiration literally in the palm of my hands is a great blessing and joy!